Straight
from the Bedroom of Steve Jobs:
The most Complete Original Hand-Built »Apple 1 Computer« Worldwide!
…. and other Icons in Auction Team Breker's
Specialty Auction on Nov. 16, 2013
___________________________________________________________________________
In May 2013 AuctionTeamBreker of Cologne, Germany, made world news by breaking the record price for an »Apple 1 Computer«. The 1976 original unit surpassed all expectations when it sold for 516.461 Euro (671,400 US$).
On the 16th November AuctionTeamBreker will be offering another »Apple 1 Computer«, but this time with its original white cardboard box (Estimate: 250.000 – 400.000 Euro / 300,000 – 500,000 US$). The unit, numbered "46", comes from the first batch of 50 computers by Apple's first client, the Byte Shop.
"No. 46" is one of very few »Apple 1s« still in working order (please see YouTube/AuctionTeamBreker), as well as the only known example in its original box! A scarce photograph of the bedroom in Jobs' parental house shows a stack of identical boxes of the first order of 50 units.
Although 500.000 Euro / 670,000 US$ for a computer that does not even have the internet may seem staggering, the »Apple 1« phenomenon has had a steady build-up. Early model »Apple Computers« have been changing hands privately for many years but have only lately started to appear at public auctions.
Apple's instant brand recognition and customer loyalty for its newest, as well as its oldest, products is one of the main factors behind record prices. Although »Apple 1« was not outstandingly advanced for its time, it was the first product of today's most valuable company. It is arguably their most iconic invention.
There is, however, a third factor as important as the first two: nostalgia. Collectors tend to identify with the items they remember as youngsters, especially in an ever-changing field like computing. Not only does the »Apple 1« carry an unmistakable historical importance as one of the first affordable home computers, it is a tangible symbol of the 'American Dream'; two young students had an idea… and 35 years later it became the most successful company in the world.
Valuing a cultural icon is not an easy task. The latest world record price, however, can be viewed in the context of other iconic modern-day collectables such as the first issue of the »Action Comics Magazine«, from 1938, which sold for US$ 2,890,000 / 2.230.000 Euro, the world's most expensive »Barbie Doll«, 1999 for US$ 302,500 / 268.000 Euro or the costliest »Leica Camera«, 1955 for 2,184,000 US$ / 1.680.000 Euro. – So what is the current value of a working, Wozniak-signed »Apple I Computer« with its original software and original box? »Apple« fans across the world will be tuning in to www.Breker.com on 16 November to find out. …. Read more ….
Erstes + teuerstes
Comic-Heft
der Welt, 1938

World's 1st and
most expensive
Comic Magazine,
1938

Teuerste
"Leica Kamera",
1955

The most expensive
"Leica Camera", 1955
ever sold!

Teuerste
Barbie-Puppe
aller Zeiten, 1999

The most expen-
sive ever "Barbie
Doll", 1999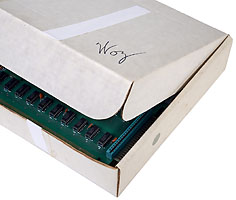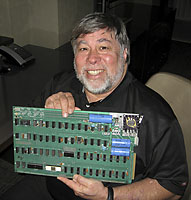 ("Woz") Steve Wozniak, signing this 'Apple-1' and the
original box which are on offer at the Nov. 16, 2013
Specialty Auction at www.Breker.com
Prototype of first »Apple Mac« survived…
Even rarer as the »Apple-1« is the prototype of the »Twiggy Drive Macintosh« from 1983, only one other is known worldwide as it was Steve Job's order to destroy all prototypes as soon as production started.
This "original Macintosh" prototype is also absolutely unique as it shows the signatures of the "Macintosh Division" molded on the inside of the cover, also from Steve Jobs, "Woz" Steve Wozniak! The keyboard with pull-out card tray did not make it to production. – This is an extremely rare machine in fully working condition, this is one of only two worldwide existing examples known today. The story of the Twiggy Mac and details of this particular machine can be found at www.twiggymac.com. – Included in this lot is a letter of authenticity signed by Dan Kottke, a well known early "Apple" employee who worked on the Macintosh team with Steve Jobs!! Also his signature is shown on the inside cover!
(Estimate: Euro 40.000 – 70.000 / US$ 50,000 – 90,000)
…. and another landmark computer by the young Apple Inc. was world's first mouse-operated »Apple Lisa-1«, 1983 which was sold for 6 months only (!!). This extremely rare and historically important PC comes up at the same specialty auction in Germany on November 16, 2013.
(Estimate: Euro 15.000 – 30.000 / US$ 20,000 – 40,000)
…. more Office Antiques
Predating the »Apple 1« by some 150 years is a very rare 1835 Arithmomere – the first commercially viable mechanical calculator – in a 'boulle' housing with engraved dedication from its inventor Thomas-de-Colmar (20.000 – 40.000 Euro / 30,000 – 50,000 US$). Another legend is a 1944 example of the Three-Rotor »Enigma« Ciphering Machine of WWII, whose codes influenced the Second World War so dramatically (20.000 – 40.000 Euro / 30,000 – 50,000 US$).
Typewriter collectors will be delighted by the attractive »North's« from 1892 (5. 000 – 8.000 Euro / 6,500 – 10,000 US$) and a wonderful »Crown Model 1« from 1888 in original carrying case (9.000 – 12.000 Euro / 12,000 – 15,000 US$).
In addition to early computer technology and office antiques, the sale features a fine private collection of »Scientific Instruments« from the Age of Enlightenment
to the late 19th century.
Amongst the devices for timekeeping are a »Universal Ring Dial«, c. 1840 (1.200 – 2.000 Euro / 1,500 – 2,500 US$) and a superbly engraved »Equinoctial Silver Sundial by Jose Marino Zilveti«, c. 1790 (1.000 – 1.500 Euro / 1,300 – 2,000 US$).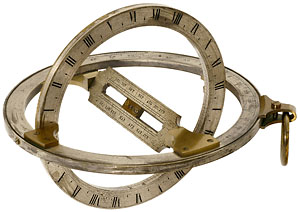 18th century British pieces include a lacquered-brass »Reflecting Telescope« by James Lynch of Dublin, c. 1770 (1.500 – 2.500 Euro / 2,000 – 3,000 US$) and »Mahogany Waywiser« by the Royal Instrument-Maker George Adams, London, c. 1740 (1.500 – 2.500 Euro / 2,000 – 3,000 US$).  Also from London comes an extensive »Wenham's Binocular Microscope Compendium by Ross«, c. 1875 (3.000 – 5.000 Euro / 4,000 – 6,500 US$) while a »Microscope Compendium by Parisian Maker Nachet«, c. 1875 (2.000 – 3.000 Euro / 2,500 – 4,000 US$) leads a selection of continental instruments that includes an impressive »Astronomical Transit Telescope by Brunner Freres«, c. 1870 (3.000 – 5.000 Euro / 4,000 – 6,500 US$). Instruments of surveying and navigation, the majority with their original well-preserved original patina, are also included.

Mechanical Music
From the mighty to the miniature, the auction showcases a selection of self-playing »Musical Instruments«, many from a distinguished private museum collection. The largest is a majestic Belgian »Decap Dance Organ«, 1950s, with illuminated facade housing a mechanical orchestra of bass pipes, three drums and a glockenspiel (20.000 – 35.000 Euro / 25,000 – 45,000 US$). One of the smallest is an exquisite »Diamond-Set Musical Jewellery Box in the Form of a Grand Piano«, c. 1880, created for a senior guard of the Cossacks Regiment (30.000 – 50.000 Euro / 40,000 – 65,000 US$). In all sizes inbetween range cylinder and disc musical boxes, singing bird automata, barrel organs and early talking machines.
Fine Tin Toys & Märklin
Amongst the highlights from a lifelong European toy collection is a »Gauge I Mäklin H Steam Locomotive« from c. 1930 (4.000 – 6.000 Euro / 5,000 – 8,000 US$). – A »Fine Horse-Drawn Carriage«, 1909, by the same maker, with original lamps and livery, conjures a graceful form of bygone transport (7.000 – 10.000 Euro / 9,000 – 13,000 US$). Mäklin was particularly renowned for its pond yachts and miniature steamers such as this »Clockwork Pleasure Boat "Loreley"«, 1914 (12.000 – 15.000 Euro / 16,000 – 20,000 US$).

Toys by other makers are equally well-represented. Pristine Automobiles by »Carette«, »Bing« and »Tipp & Co.« line the shelves alongside many near-mint Motorcycles by »Krauss« and »Distler« and boxed examples of »Ernst Paul Lehmann's« whimsical work.
Combining train and automobile with a particularly French frivolity is the surreal »Train Automobile Renard«, c. 1905 which was retailed exclusively by the Parisian department store Magasin du Louvre, and still retains its original box almost 110 years later (10.000 – 15.000 Euro / 13,000 – 20,000 US$).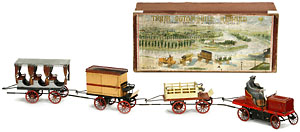 Boutique Fantasque
Representing the magical side of life is a collection of 19th and early 20th century »French Automata«. One of the highlights is the beautiful »Magicienne« by Roullet et Decamps, c. 1890, with bisque portrait face, whose tranquil gaze makes the strange contents of the pots all the more surprising (40.000 – 60.000 Euro / 50,000 – 75,000 US$).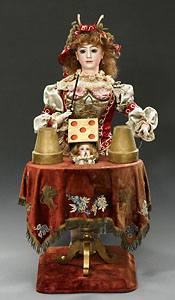 Also associated with magic is »Le Magnetiseur« by Phalibois, Paris, c. 1910 (30.000 – 45.000 Euro / 40,000 – 58,000 US$), probably modelled on Harry Kellar's famous act, the "Levitation of Princess Karnac". Another piece that seems to defy the laws of gravity is »Renou's Metamorphic Man«, c. 1910, who increases in height as the temperature rises, until he is taller than the thermometer itself (6.000 – 8.000 Euro / 8,000 – 10,500 US$)!
Equally fantastical are Roullet et Decamps' »Monkey Patissier«, c. 1885, with kitten pie (8.000 – 12.000 Euro / 10,000 – 15,000 US$) and a full-sized wax working model of »The Death of Cleopatra«, c. 1890 (10.000 – 15.000 Euro / 13,000 – 19,000 US$).

Collectors old and new are invited to attend this exciting auction. Bidding is in person, by telephone / commission or online through www.liveauctioneers.com. The bilingual (English-German) catalogue is available online at www.breker.com and in printed form from the auctioneer.
Additional details of the pieces described here, new highlights, preview times and special events can be viewed at www.breker.com or www.youtube.com/auctionteambreker.
Telephone: + 49 – (0) 2236 – 38 43 40. E-mail: auction@breker.com
---

The Specialists in »Technical Antiques & Fine Toys«
P.O. Box 50 11 19, 50971 Cologne (Godorf)
Otto-Hahn-Str. 10, 50997 Cologne, Germany
phone +49/2236/38 43 40 * fax +49/2236/38 43 430
e-Mail: Auction@Breker.com * InterNet: www.Breker.com
Our International Representatives:
USA: Lee Richmond, Tel. (703) 796-5544, Fax: (703) 766-0966 * BREKER@TheBestThings.com
England: Tel. 07779-637317 * jakuamanu@yahoo.co.uk
France: Pierre J. Bickart, Tel. (01) 43 33 86 71 * AuctionTeamKoln@aol.com
Japan: Murakami Taizo, Tel./Fax (06) 6845-8628 * murakami@ops.dti.ne.jp
Australia & New Zealand: Dieter Bardenheier, Tel./Fax: -/64(0)9-817-7268 * dbarden@orcon.net.nz
China: Jiang Feng, Tel. 0086-138-62062075 * jiangfengde@gmail.com
Hong Kong, Taiwan, Singapore: Alex Shih-Chieh Lin, Tel. 00852-9490 4113 * alexsclin@gmail.com
Russia: Polyguide Ltd. Moscow, Tel. (925) 740-66-03, Tel./Fax (985) 999-93-55 * ml.mediaservice@gmail.com